Super Smoothie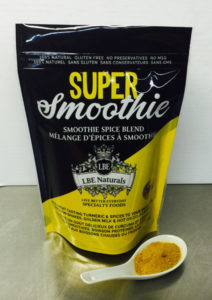 EVERYONE LOVES SMOOTHIES AND LBE HAS PUT TOGETHER 8 OF NATURES MOST POWERFUL SPICES FOR YOU TO TO ADD FLAVOUR AND BOOST YOUR SMOOTHIES , PROTEIN SHAKES ,GOLDEN MILK ,TEA,COFFEE , CEREAL AND MORE. YOU CAN USE OUR SMOOTHIE BLEND IN HOT OR COLD LIQUIDS.
DIRECTIONS:
Take 1 heaping tsp. of Smoothie Spice Blend and mix
into 1 c. your choice of hot liquids of dairy or non dairy
option to make Golden Milk, Tea or Coffee making it
perfect for sipping warm. Add to your protein shakes
and fruit or veggie smoothies. Stir well before drinking
---
New Product Launch – Teff side dishes
Teff is high in protein with a great combination of eight essential amino acids needed for the body's growth and repair. It has high amounts of calcium (1 cup of cooked teff offers about 1/2 cup of calcium found in cooked spinach), manganese, phosphorous, iron, copper, aluminum, barium, thiamin, and vitamin C (which is not normally found in grains). The iron from teff is easily absorbed and is also recommended for people with low blood iron levels. We add no sodium to our Teff blends so they are also great for those seeking to lower their blood pressure and maintain a heart healthy diet..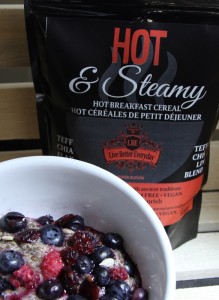 Energize* Fuel* Nourish
Quinoa and Teff blend
LBE combines ancient grains in this unique gluten free blend of teff quinoa and spices
while adding a delicious boost to your side dishes. Made in Langley BC blended with modern and ancient traditions.

Explore the versatility of cooking with our collection of gluten free Quinoa & Teff blends. They are perfect as a wholesome side dish or the foundation for your main dish with our four distinct varieties. Just you add your fresh ingredients make this a winning combination of any meal.
Nutritious super grains and super seeds

Tuscan Teff
SALT FREE/GLUTEN FREE/SUGAR /VEGAN
Take a trip to Italy with this Tuscan-inspired Quinoa Teff blend creating aromatic aromas in your kitchen. Added with the mild nutty earthy taste of Teff you have an amazing combination. Make a quick salad with olive oil and herbs. Make Risotto style dish by adding tomato sauce and parmesean.

Moroccan Quinoa Teff Blend
SALT FREE/GLUTEN FREE/SUGAR FREE
Our Moroccan blend is simply warm and comforting and somehow alluringly exotic at the same time added with the mild nutty earthy taste of Teff you have an amazing combination.
Spanish Quinoa Teff Blend
SALT FREE/GLUTEN FREE/VEGAN
For a flavorful Spanish smoky heat with peppery spices& savory herbs
And the mild nutty earthy taste of Teff you have an amazing combination.
Try adding tomatoes,chorizo sausage and peppers for a paella blend.
Indian Curry Quinoa Teff Blend
SALT FREE/GLUTEN FREE/SUGAR /VEGAN
Bring on the warm and aromatic blend of spices to excite your side dish
Added with the mild nutty earthy taste of Teff you have an amazing combination.

Plant-based Protein,



Make a quick salad with olive oil and herbs
Cook into a pilaf with nuts and dried fruit
Serve with chili, curries, and stews
Stuff in burritos, wraps and pitas
Try in place of rice, bulgur, barley or couscous in your favorite recipes

High Nutritional Value
Delicious & Versatile for recipes
A smart food choice
Low in Fat
Low in Sodium
keeps you feeling fuller longer
Nutritious super grains and super seeds
Naturally gluten free, teff is a wonderful way to mix up meals
Teff is the smallest grain in the world is a nutritional powerhouse
Texture with additional tomato sauce , coconut milk